I met Liz Orenstein during my first week in the dorm at the University of Minnesota. Little did I know that we would become best friends, roommates for 3 years and–eventually–the maid of honor at each other's wedding!
A job transfer took Liz to the east coast in 2009. She met Corey Cohen the next year, a New Jersey native. They recently moved to Morganville, New Jersey, which is about an hour commute from New York City. Their wedding and reception next June will be held at The Palace at Somerset Park.
Last week, I spent four days visiting with Liz and Corey, doing some intensive wedding activities/planning. We visited the Palace, which I was very interested to see because besides being the maid of honor, I will also be her photographer along with my mom! Wow–what a gorgeous venue for a wedding. Liz did hire the Lincolnshire wedding photography team as they had done a fantastic job at her brother's wedding, but my mom and I are always happy wedding photographers so when we have the bonus of an incredible site to photograph in, we don't let the moment pass!
Liz and Corey were back in Minnesota in August, a perfect time of year for outdoor engagement photos in the gardens at the studio. My mom remarked that they were quite the happy, blissful couple which is what makes engagement photography so much fun!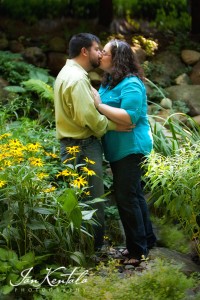 We can't wait to celebrate with you both next June!