They say that rain on your wedding day is a sign of good things to come. If the old adage is true, then Jenna and Jake will surely live a lifetime of happily ever after!
While a steady rain continued throughout the morning and early afternoon, the couple's spirits were far from dampened. We got many great shots within the sanctuary of St. Joseph the Worker Catholic Church in Maple Grove. All of the light wood and large windows gave us some fabulous natural light to work with. We even took the brave groom and groomsmen outside for a few fun jumping shots; those are a favorite of ours.
On the drive to their reception at Rush Creek Golf Club, the clouds began to part and lo and behold, by the time the wedding party stepped out of their stretch Hummer limo, the rain had vanished. (That made for some pretty happy photographers!) Jenna and Jake were great sports, allowing us to pose them all around the golf course during their cocktail hour. I tell you, there's nothing like a good soaking rain to get a golf course looking so lush and green.
We hope you enjoy the photos as much as we did taking them. And congratulations to the new Mr. and Mrs. Krueger!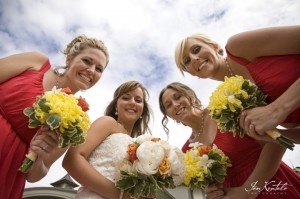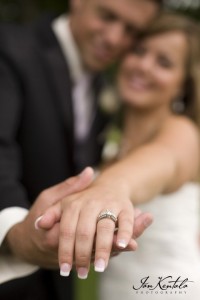 To see more shots of Jenna and Jake's big day, check out our Facebook fan page.